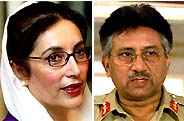 Yesterday the
Daily Times
reported that
Benazir Bhutto was persisting with her policy of keeping the PPP in the dark about her dealings with Musharraf
.
Ignoring her party faithful, she apparently now relies on Rehman Malik - the policeman turned multimillionaire, currently absconding from the law in Pakistan – who, according to
The News
, has taken over the role as Benazir's
top "adviser and broker" …on important matters ranging from politics to business…[because of his] "pragmatic and practical" approach.
___________________________________________
In an attempt to comprehend her behaviour let me begin with reiterating some facts that seem to have fallen by the wayside.
In July 2003 a Swiss court convicted Benazir Bhutto and her husband Asif Zardari of Money Laundering

- the charge of corruption was not included as the funds had been placed in Geneva banks prior to the recent enactment of Swiss anti-corruption legislation.

The Court sentenced them to a six-month suspended jail term, fined them $50,000 each and ordered they pay more than $2m to the Pakistani Government.



Having appealed this decision Pakistan's 'illustrious' political couple were then confronted, in 2005, with a enhanced charge of Aggravated Money Laundering as subsequent legal investigations had revealed that the money in question now involved a sum of 12 million dollars. Conviction under this charge meant a maximum sentence of five years in jail as well as a fine of about one million Swiss francs.

In September 2005 Benazir Bhutto appeared before a judge in Geneva's Palais de Justice and underwent intensive questioning - during an eight hour period of hearing - about various deposits of millions of dollars, as well as that well-known necklace worth of £120,000 which was found in a Swiss deposit box.

Interestingly, after it had been legally established that the necklace had been purchased for Benazir by a company controlled by Asif Zardari, Benazir told the court that she refused to accept the gift of the necklace. Reportedly when she was asked why she had refused to accept the gift, Benazir said her mother had told her that the gift was "inappropriate". She also said that it was her personal affair to accept or reject any gift. (Your Blogger's comment: If such was the case, then why was the necklace not returned, instead of being kept concealed in a deposit box for all these years?)

Throughout the hearing Benazir Bhutto proclaimed her innocence - partly by pleading ignorance and partly by implicating other parties (notably her husband). However, there is nothing to suggest that the Court accepted her protestations.
-------------------------------------------------------------------------------
For further details on the Swiss case see the following
Glasshouse
blogs:
A Damoclean Sword that continues to swing
The Timebomb Begins to Tick Louder
Benazir and the Swiss Chamber of Secrets
-------------------------------------------------------------------------------
Not surprisingly, after the last court hearing Benazir Bhutto was scared out of her wits. A likely conviction by an impartial foreign judiciary would not only have finished her political career for good but it might also have involved a period of imprisonment for her.
Therefore it came as no surprise to your Blogger to learn that in early 2006 the PPP leader was prepared to publicly accept a President Musharraf-in-uniform providing the Swiss case was done away with it. But like all bullies, Musharraf preferred to control her rather than enter into any deal with her.
So, the military regime, rather than bringing the Swiss case to a logical conclusion, preferred instead to keep dangling it threateningly before Benazir Bhutto, to browbeat her with the hope of making her capitulate under pressure.
In view of these facts her foremost concern these days would be to get rid of all the corruption cases against her.
Her second probable concern, notoriously money-minded as she is alleged to be, would relate to all the millions of dollars that have been legally frozen in Switzerland, Spain and elsewhere. She would, of course, want these monies restored to her control.
While negotiating over these personal issues it is hardly likely that she wanted any of her party men around. Besides, unfortunately, her eleven years of self-exile has not resulted in a liberal metamorphosis, she remains as authoritarian as ever, particularly towards her party underlings.
Now your Blogger comes to her other concerns.
Try and imagine a future scenario where with the blessing of the establishment the PPP wins the next election (please note that
Musharraf has already offered to 'adjust' the election in PPP's favour
). With the existing law preventing Benazir from becoming a third-time prime minister, the office would have to go to one of her party members. She would regard such a situation as a definite threat to her three decade long grip on the party.
Therefore, her third concern would be to have the law, barring two-term prime ministers from attaining the office again, cancelled.
Only once she has achieved these three goals, do the other demands come into play. These being the removal of Musharraf's uniform, free and fair elections, date of her return to Pakistan, et al.
Pakistan
Musharraf
Benazir Bhutto