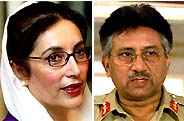 A question: Why are Musharraf and Benazir Bhutto urgently trying to strike a deal?
From Musharraf's standpoint it is quite comprehensible – it is all about
kursi
,
kursi
and
kursi
.
The Chief Justice crisis has demolished his image of invincibility, the Army is getting openly reviled at protest rallies held in streets of Punjab, and Washington has ended its post-9/11 love affair with him. With his grip on power eroding, the plan of getting 're-elected' through once more gerrymandering the constitution has become fraught with political insecurity and is no longer an easy option.
Consequently, a suitable deal with Benazir Bhutto (and her PPP) is perhaps the safest way to extend his stay in power and enable him to face elections.
____________________________________________
Benazir has been increasingly desperate for a deal ever since she was convicted in a Swiss Court of Law for money laundering. Having appealed the decision she now faces the possibility of even a harsher future - a maximum sentence of five years in jail.
------------------------------
The evidence against Benazir Bhutto and her spouse was strong enough to convict her in July 2003 of money laundering (the charge of corruption was not included as the funds had been placed in Geneva banks prior to the recent enactment of Swiss anti-corruption legislation) by Swiss Magistrate, Daniel Devaud.
Benazir Bhutto appealed the case. Unfortunately for her now there is an additional charge of aggravated money laundering which carries a maximum sentence of five years in jail as well as a fine of about one million Swiss francs if Bhutto is found guilty.
The evidence stacked against her appears to be fairly conclusive. In September 2005 she was grilled by the Swiss judge for over eight hours. Apparently an emotional Benazir replied to these questions by denying any knowledge of the bank accounts or the millions of dollars worth of 'commission' payments made into them.
And when presented with the evidence of the court-sequestered £120,000 diamond necklace discovered in their bank lockers, she admitted that her husband had bought it for her but claimed that as she had refused to accept it she could not be held responsible.
Even after having adopted the legal stance of dumping all the guilt on her spouse, Benazir is still not certain whether the Swiss Court will acquit her.
In the circumstances, it is not surprising to learn that Asif Zaradari has been living in New York for the past few years. As the US and Switzerland do not have an extradition treaty, it will not be possible for the Swiss Courts to lay their hands on him if he is found guilty in the criminal case arraigned against him.
In the event Benazir Bhutto is found guilty of the crime of aggravated money laundering in Switzerland her political future would suffer a tremendous blow. In fact it will be finished if she has to serve time in jail. For once she will not be able to claim political bias, as no one would believe that a Swiss Court would hold a political grudge against her.
------------------------------
For readers who still believe the accusations of corruption against Benazir Bhutto are mere fantasy, then your Blogger suggests that a brief bout of 'Googling' might change their perspective.
For those too lazy to Google just simply click the following links:
The New York Times
The Sunday Times
The Guardian
____________________________________________
So, one can only conclude that any deal entered between Musharraf and Benazir Bhutto will be based on purely selfish motivations on the part of both of them. One hopes to retain his precious
kursi
and the other hopes to finally get a '
Get out of Jail Free
' card.
However, whether a deal does materialise, is still a moot point.
------------------------------
Accepting Musharraf in uniform or allowing him to get re-elected through the existing assemblies, will damage Benazir's political standing fatally; even the most loyal of her supporters will face difficulty in rising to her defence.
If she colludes with Musharraf and enters into political alliance for the impending elections, she cannot help but become seriously tarnished in the process. She might have got away with it if Musharraf had still been a powerful dictator (which is clearly no longer the case). Now she will be perceived as providing political sustenance to a drowning despot – an unforgivable sin as far as most democratically-minded people are concerned.
However, at the same time the self-centred pressures of getting rid of all corruption cases arrayed against her and the lure of return to Pakistan as a 'homecoming Queen' cannot be discounted nor undervalued.
------------------------------
From Musharraf's standpoint losing his uniform is risking political suicide – without the 600,000 men in tanks, helicopter gunships and F-16s propping him, he may soon turn into a political nonentity and sent to political oblivion.
Even if he scrapes a deal with the PPP whereby he discards his uniform for a guaranteed five year term as president, his future remains fraught with risk. While he may possess the requisite constitutional sanction to dismiss future prime ministers and governments, recent events have shown him to be an exceedingly unpopular leader. This obvious lack of public support will weaken him in any potential conflict with the government of the day.
It must be borne in mind that the sight of a weakened Musharraf has changed the attitude in the Bush White House as well. Now beginning to plan for a post-Musharraf Pakistan, the White House has determined that a PPP-Army alliance is the best possible alternative for the US, given the current circumstances.
However, American demands to make a deal with Benazir must be galling for a military dictator used to getting his own way - his recent outbursts against the US are therefore quite comprehensible.
------------------------------
If a deal does come through - and the signs are there that it will - one can ask: How long will it last?
Considering, there is hardly any love lost between Musharraf and Benazir, if anything their state of mutual loathing has been quite overt, and that military dictators have always held a low threshold for even their own-appointed prime ministers (just take the examples of Zia and Junejo, and Musharraf and Jamali), it will be a deal built on quicksand and probably last no more than a few days after the elections.
------------------------------
As far the rest of Pakistani politics is concerned,
this is what a commentator in Dawn said yesterday
:
The Pakistan People's Party would be a big loser in the event of a deal with the government, according to political analysts based in the capital.

Conversations with sources close to the leadership in different parties revealed that a good number of PPP hawks were seeking membership of other parties, especially the Pakistan Muslim League-Nawaz, after resigning themselves to an arrangement between their party and the government.

The reports of a PPP-government reconciliation have, paradoxically enough, brought joy to other opposition parties as they feel that the last impediment to an anti-Musharraf alliance — People's Party chief Benazir Bhutto — will now be out of the way.

This was how a leader of the Muttahida Majlis-i-Amal saw the shape of things to come: "It will enable anti-Musharraf forces to gather on one platform, ensuring a head-on collision between the pro-US 'enlightened moderates' on one side, and 'pro-Islam' forces on the other."

The Musharraf-Benazir deal will definitely be a setback for those elements which had set their sights on the forthcoming elections as a vehicle of change.

For hangers-on of the Musharraf government, for instance the PML-Q, the patch-up would be like a bolt from the blue. However, several observers warned of an upheaval if the new arrangement fails to come up to the expectations of the nation.
Pakistan
Musharraf
Benazir Bhutto