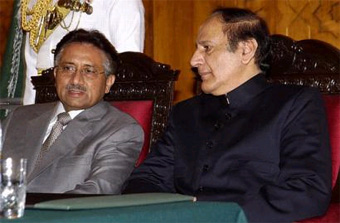 There is a fascinating news item in today's
News
('
Why Shujaat stays away from judicial crisis
') which provides a glimpse into what took place at the Chief Justice of Pakistan's house (on 9 March 2007) shortly after he was so brazenly 'dismissed' by Musharraf.
On the evening of 9 March while Chaudhry Shujaat Hussain was hosting a reception at Punjab House for the outgoing US ambassador, Ryan Crocker,he received an urgent message from the Prime Minister's Secretariat to meet with the Chief Justice as part of "a damage-control exercise". Here is what followed:
- Before visiting the Chief Justice, Shujaat 'formally secured permission from an intelligence agency for this meeting'.

- During his discussions with the Chief Justice, Shujaat found him to be 'very accommodating in conversation'.

- '[As] the discussions were progressing, the agency officials kept working on their agenda to fully 'disarm' the chief justice. Ignoring [Shujaat's] presence in the Chief Justice House, they snapped telephone connections and asked Justice Chaudhry's family to hand over the keys of all the vehicles under their use.'

- '[Then] Justice Chaudhry's son, Dr Arsalan, rushed into the drawing room and told his father about the fresh directive he had received from the officials. It stunned both of them — Justice Chaudhry and Chaudhry Shujaat. (Shujaat fails to enlighten us what this directive was).'

- 'Shujaat had felt very embarrassed over this untimely demand of the security officials. And the demand was being made in his presence, thus putting his credibility and role under question.'

- '[Shujaat then] immediately phoned the Prime Minister Shaukat Aziz to ask about the reason behind this behaviour when he was doing all this at the behest of the government. Shaukat had promised to do something but he could not.'

- Shujaat insists that 'It was the [agency] officials' unwise gesture [that] foiled efforts he was making to broker a face-saving patch-up'.

- 'Shujaat later stood up and thanked Justice Chaudhry. "I am happy with you and the way you honoured me. I promise you not to come again at the behest of the government," Shujaat has been quoted as telling Justice Chaudhry in his concluding remarks.'

- 'According to the sources, Shujaat categorically told the government that he would not offer his role any more in this issue and that he had made a commitment to Justice Chaudhry in this regard.'

- 'Shujaat has distanced himself from the ongoing crisis afterwards, it has been reliably learnt. His statement that he did not meddle in the affairs of the judiciary and the Army, was against the backdrop of this incident, officials said.'
This confirms what was widely suspected (and reported) at the time that the Chief Justice of Pakistan had been left to the mercy of one of the regime's intelligence agencies.
The agency would have been acting on the Army Chief's instructions; otherwise Shujaat and Shaukat Aziz would not have been so pathetically helpless.
Pakistan
Chief Justice of Pakistan