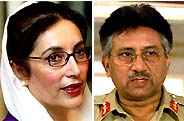 Benazir Bhutto has been constantly belabouring us that her demands from Musharraf have been based purely on democratic principles, in that she has been negotiating for free and fair elections and the end of military involvement in politics.
All along most us have suspected that her most important 'deal' stipulatation was in fact related to the ending of the corruption cases against her and her family, followed by the cancellation of the two-term restriction on the re-election of past prime ministers.
Last Sunday a visibly desperate Benazir Bhutto told CNN's Wolf Blitzer
"I am under pressure and worried that the time is running out"
. She admitted that she was facing pressure from both within her party and supporters to discontinue the talks and reach out to other political forces for a joint struggle for the restoration of democracy.
A day earlier she had appeased Musharraf by nominating Amin Fahim for the presidential election. Why so? Because now the PPP has an excuse for not resigning from the assemblies (on the pretext that they are committed to voting for their candidate), thereby providing a modicum of respectability to Musharraf's efforts to get 're-elected'from lame duck assemblies.
Fortunately for her Musharraf is also a desperate man these days. He is frantic in wanting his 6th October 're-election' to become a
fait accompli
as soon as practicably possible.
As so as
Bruce Loudon of The Australian
informs us:
General Musharraf sent two of his top aides - including his newly appointed head of Inter Services Intelligence - to London for talks with former prime minister Benazir Bhutto to convince her to stop MPs from her Pakistan People's Party joining the walk-out from national and provincial parliaments.

The spymaster, General Nadeem Taj, accompanied by national security adviser General Tariq Aziz, were reportedly preparing to offer Ms Bhutto a power-sharing deal that would ensure her an unfettered return to Pakistan this month and immediate access to bank accounts frozen over corruption charges.

Ms Bhutto would be asked to "quietly help" ensure General Musharraf's re-election on Saturday by not joining other opposition parties to cripple the credibility of the presidential ballot due to take place in an electoral college that consists of members of the national and four provincial assemblies.
And so after all her bombast of winning 80% of her deal, in the end all she appears to have pathetically ended up with is a law ('National Reconciliation Ordinance' or a similar sounding artifice) which will be promulgated probably tomorrow, allowing her refuge from the multitude of corruption cases stacked against her.
While this move will put a possible end to her sleepless nights over the
Swiss Case
, little else was achieved from the much hyped deal of the century.
_____________________________________________
The appointment of Lt. Gen Ashfaq Pervez Kiyani as the designated Army Chief comes as no surprise. Such a move was expected the moment Musharraf felt reassured that there were no further obstacles in achieving his goal.
Whether there will a further obstacle depends on the Supreme Court decision on Justice Wajihuddin Ahmed's petition challenging the legality of Musharraf's nomination as a government employee who has not been out of office for the constitutionally stipulated two-year term.
Perhaps Musharraf knows more than we do.
_____________________________________________
Meanwhile
Strafor
maintains that Musharraf had little choice but to select Lt. Gen Kiyani as his successor:
"It is unprecedented for an ISI leader to go on to become military chief, so Kayani's appointment demonstrates that Musharraf, even before he steps down as head of the military, has been forced to take into account the views of his senior generals.

The rise of Kayani and Majid is in keeping with Stratfor's June report that these generals would get the top two four-star positions, though we expected Majid to become the military's second-in-command and Kayani to head the joint chiefs. Our view was based on the fact that Kayani and Musharraf are known to disagree. In the last four months, however, Musharraf's grip on power has significantly weakened, which has allowed the top generals to more aggressively assert their positions with regard to the military's future -- a process that brought Kayani to the fore.

When Kayani does become military chief, his tenure as ISI head will put him in a better position to streamline the country's intelligence agencies and seal the leaks that jihadists are exploiting within the security network. Kayani already had used his positions as ISI head and Pakistan's top three-star general to become a player in the affairs of governance. For example, he has been directly involved in the president's negotiations with self-exiled former Prime Minister Benazir Bhutto, leader of the country's largest opposition group, the Pakistan People's Party.

Another related development is the Sept. 21 appointment of Lt. Gen. Nadeem Taj as head of the ISI. Taj is considered a close ally of Musharraf, and his appointment could allow Musharraf to maintain a certain balance within the army, which will be crucial for him as he tries to settle into his position as civilian president.

The emerging system, in which a civilian Musharraf is forced to share power with an army chief and a prime minister, will ultimately depend on the president's ability to contain political unrest and the triangular balance. Musharraf's failure on either count will allow Kayani to step in and make the tough decisions.

Ultimately, the military institution, not its chief, is paramount. Therefore, the military will dominate the political system -- but with an increasingly assertive judiciary, civil society and media limiting its room to maneuver. But as long as political forces -- and hence, parliament -- remain weak, the military will have a significant say in the affairs of the state."
If one goes by this account then it would appear that Musharraf's key appointment would be in promoting and naming the loyalist (and his wife's nephew) Lt. Gen. Nadeem Taj as the head of ISI.
_____________________________________________
Your Blogger is off on a work assignment and will consequently not be logging on for the next few days.
_____________________________________________
Benazir Bhutto
Pakistan