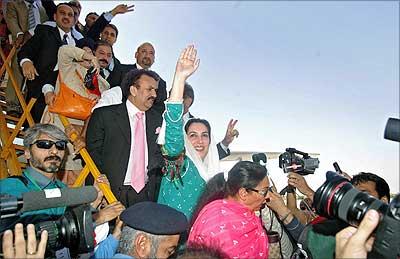 Most of your Blogger's readers should by now be aware of his disapproval of Benazir Bhutto. But that should not detract from his major bugbear – the ruthless military dictatorship in Pakistan. After all,
Onlooker
is, if nothing else, a democrat by creed and by conviction.
A country belongs to its entire people and not just to its self-aggrandizing elites – military officers, bureaucrats, feudal landowners, and business magnates and senior executives – who consist of less than 1% of Pakistan's population.
Simply put it is time that the battered and bruised people of Pakistan had their say.
So if Benazir Bhutto's arrival in Pakistan helps destabilise Musharraf and his corrupt, power-obsessed cronies I am all for it.
So along with many others I am counting the crowds. The more the better!
__________________________________________________
ADDENDUM
At 12:09 am there were two horrific bomb explosions as Benazir Bhutto's vehicle passed the Karsaz area of Drigh Road. While Bhutto was rushed off to the safety of Bilawal House, it is reported that there are some sixty dead and over a hundred injured.
Senior PPP party members were quick to blame the regime's secret agencies for carrying out these blasts. A successful return for Benazir Bhutto does threaten the Musharraf regime, so these accusations do have a logical basis, particularly when these agencies are known for carrying out such incidents.
However, it could also have been carried out by South Waziristan's Baitullah Mehsud's men or some other extremists.
With elections not far in the future, preventing Benazir Bhutto from addressing large gatherings and other public activities, also makes a lot of sense if one happens to be a die-hard regime supporter.
The next few days will reveal if she now takes shelter within Bilawal House – as her opponents would wish – or continues with her self-proclaimed mission of "bringing about democracy in Pakistan".
Readers I must confess the death and injury of so many innocents makes me sick to my stomach. All I can do is simply curse the callous bastards who carried it out.